You can use the appointment reminder function to send your customers a reminder before or after the appointment.
For example, to remind the customer of the appointment one day in advance or to remind them to make a new appointment a few days later.
You can freely choose the text and sending time for the reminder and adjust it at any time.
The number of email or sms reminders is not limited.
Create a reminder
To create, edit or delete appointment reminders, click on Set up your company in the main menu and then on Reminders.
To create a reminder, click on New Reminder.

Edit reminder
To edit a reminder, click on the reminder, edit the text and send time, and then click Save.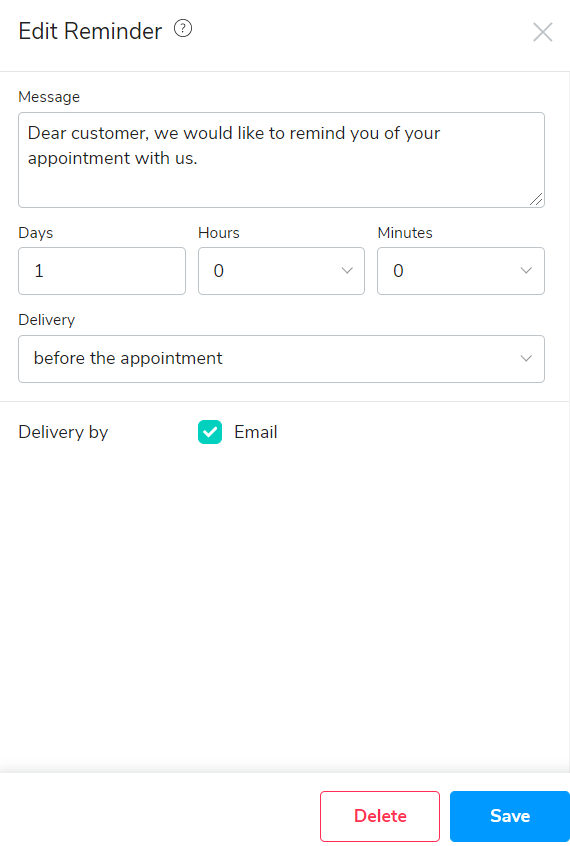 Delete reminder
To delete the reminder, click on the trash button or click on the reminder and then on Delete.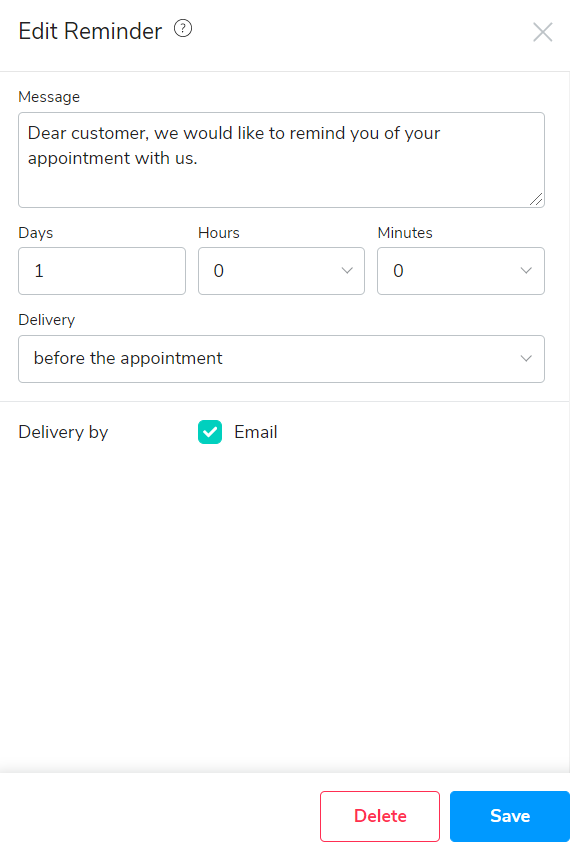 You can create as many email reminders as you like. There's no upper limit to these.
You can also send multiple text message reminders to your customers about their upcoming appointment. Use the opportunity to remind your customers of their upcoming appointment in advance and make sure that the appointment takes place.
Tip: Send a reminder 24 hours before the appointment and another one hour before in order to best inform your clients!
SMS Reminder
Note: In addition to the e-mail appointment reminders, you have the option of notifying your customers of the upcoming appointment via SMS.
Depending on the contract, additional cost may apply.
There is no limit to your characters, so you can make the appointment reminder flexible in length. When creating the reminder, you can see how many SMS your text will take up.

Your appointment reminders always consist of your company name and the text itself. Under "Customer notifications" in your settings you can set the name for your SMS notifications.
Tip: You may want to choose a shorter name to minimize the number of characters used in your text.

If you haven't set a name for SMS reminders, we will use the specified company name from your general company settings.

You are not sending SMS reminders yet? Simply activate them in your dashboard.